What is Cyber Essentials?
Cyber Essentials is a simple but effective, Government-backed scheme that will help you to protect your organisation, whatever its size, against a whole range of the most common cyber attacks.
Cyber attacks come in many shapes and sizes, but the vast majority are very basic in nature, carried out by relatively unskilled individuals. They're the digital equivalent of a thief trying your front door to see if it's unlocked. Our advice is designed to prevent these attacks.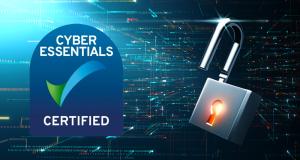 Training for SMEs in Northern Ireland
IASME (Information Assurance for Small and Medium Enterprises Consortium) is the National Cyber Security Centre's Cyber Essentials Partner and the NI Cyber Security Centre will soon be launching a course specifically designed to help SMEs in Northern Ireland to break through the technical jargon.

'Cyber Security Leadership Strategies' will provide you with proven solutions to help your organisation implement some effective and proven controls to protect your business.

Details on the course and how to book a place will be available in the next couple of weeks via the IASME and NI Cyber Security Centre website, and social media channels @NICyberSC.
More information on our own certification can be found at NI Cyber Security Centre Cyber Essentials certification.