Take time to secure your mobile devices!
If you've just bought a new device, or haven't looked at your security settings for a while, you should take some time to make sure you're protected against the latest cyber-threats.
Devices like smartphones, tablets and laptops are getting more secure, but hackers are getting better at attacking them with more sophisticated methods. An example of these is smishing where a fraudulent text message is sent to someone's mobile phone, asking them to call a phone number or click on a web link, with the aim of persuading them to share their personal /financial details or make a false payment.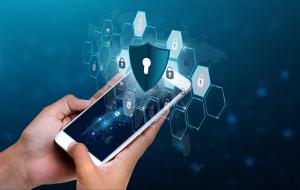 What Is Mobile Device Security?
Mobile device security refers to the security measures taken to protect your private data stored and transmitted on your mobile devices. It is also the ability to prevent unauthorised users from accessing these devices without your knowledge and consent.
Examples of devices that require this type of protection include: 
Smartphones

Laptops

Tablets

Wearables e.g smartwatch and any other portable devices that require a connection to the internet.
We have developed a handy pocket guide which highlights the main threats to be aware of and some simple tips you can take to  secure your mobile device. You will also find advice for securing your device below. 
Most manufacturers provide specific guidance on how to secure their devices. Choose your device type from this list:

Apple
Google (Android)
Samsung
Microsoft
Find out how to save passwords in your browser - choose your browser from this list:

Google Chrome (opens in a new tab)
Microsoft Edge (opens in a new tab)
Firefox (opens in a new tab)
Safari (opens in a new tab
Only save passwords in your browser on your own device  - not on a public or shared computer.