Have you spotted a suspicious email?
Phishing is used by cyber criminals as an attempt to trick individuals into providing sensitive information such as personal data, banking and credit card details, and passwords. Typically carried out via scam emails, these messages often appear genuine but are dangerous. Phishing emails are often designed to enable cyber criminals to download viruses to your computer and steal your information.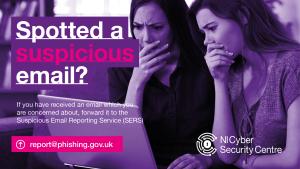 If you are suspicious about an email you have received and are unsure what to do about it, forward it to the National Cyber Security Centre's (NCSC) Suspicious Email Reporting Service (SERS) at the email address below:
Your report of a phishing email helps the authorities to act quickly, stop as many of them as possible and protect more people from being affected.
For more information visit NCSC's website.