Published date: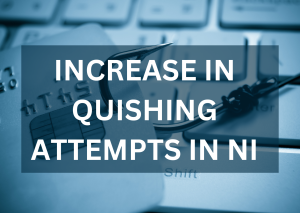 Over recent weeks there has been an increase in quishing attempts in Northern Ireland.
What is quishing?
Quishing is a variation of a phishing email. Quishing emails request the recipient to scan a malicious QR code whereas phishing emails request the recipient to click on a malicious link or attachment.
How it works
Cyber criminals send phishing emails containing a PDF or PNG image of a QR code. As the QR code has replaced the malicious link/attachment this can reduce the possibility of the email being classed as phishing.
The requirement to scan the QR code increases the likelihood of the recipient using a personal device outside of the organisations web or anti virus protection.
Similar to other phishing campaigns, once the recipient scans the QR code they are taken to a URL which may be hosting malware or a credential harvesting "sign-in" page.
For more information and advice on how to protect yourself and your organisation from phishing attacks click here. Report Cyber Crime to Action Fraud at www.actionfraud.police.uk or 0300 123 2040
Please see below example of a quishing attempt