Published date: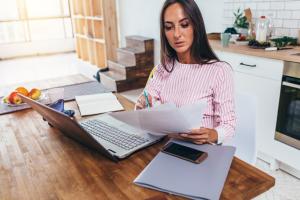 Recent government advice to help prevent the spread and transmission of Coronavirus has meant that many businesses will require staff to work from home to maintain business continuity. These unique measures mean that many businesses and individuals may be faced with unique cybersecurity challenges that they may not otherwise have had to deal with or have planned for.
The National Cyber Security Centre (NCSC) has moved to release guidance to assist individuals and organisations with cybersecurity concerns around homeworking.
The NCSC has outlined recommended steps for organisations in:
Preparing for home working
Setting up new accounts and accesses
Controlling access to corporate systems
Helping staff to look after devices
Reducing the risk from removable media
The full NCSC guidance can be read here - https://www.ncsc.gov.uk/guidance/home-working
Some key points that you should consider when homeworking.
Staff should be reminded to keep all their devices and software up to date and patched, ensure all security settings are up to date and anti-virus software is active. 
Every organisation should have appropriate reporting procedures in place if devices are lost or stolen or if any staff member is the victim of a cybercrime or a security breach. Homeworking increases the risk of such events. Staff should be familiar with these procedures and the need for urgency in reporting such incidents.
Whether your applications (Apps) are in the cloud, on your device or on a server back in the office you need to ensure your access point to the internet is secure. If you are using a public or shared WiFi then consider using a virtual private network (VPN) to secure your connection to the internet and avoid any potential snooping on your link.
A virtual private network (VPN) gives you online privacy by creating a private network from a public internet connection.  Most important, VPN services establish secure and encrypted connections to provide greater privacy than even a secured
Wi-Fi hotspot.
You should also consider configuring trusted DNS services such as Quad 9 to help protect you from known malicious sites and IP addresses. Quad 9 Is a free security solution that uses the DNS to protect your system against the most common cyber-threats. It's easy to configure this on your home router or devices.
What is DNS? Everything on the Internet, including websites, live at a numerical IP address. The Domain Name System, or DNS, translates these numerical IP addresses into human-readable domain names that we all know and remember. If your DNS settings are not working correctly, or you're still using defaults, you may be at risk of cybercrime and performance issues.
In times of fear and uncertainty, cybercriminals see this as an opportune time to prey on vulnerable and unsuspecting targets. Please be vigilant, many Coronavirus themed phishing campaigns are being seen day and daily as outlined in our recent article - Coronavirus-themed phishing attacks and hacking campaigns are on the rise.