Published date: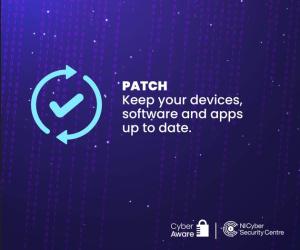 One of the easiest ways to keep your information secure is to keep your devices, software and apps updated. Whether it's a phone, tablet or laptop etc, all devices, software and apps should always be updated to protect your information. So how do we keep our devices and software up to date?  Please read below to find out.
How to Keep Devices Up to Date
Be aware that some updates might require your device is connected to Wi-Fi or have sufficient battery power, sufficient storage, or is rebooted to apply the updates. If this is the case, make sure to follow instructions on the device for update.
Update Often
Install updates promptly when notified - ideally within a few days. Don't delay.
These updates fix general software problems and provide new security patches where criminals might exploit to gain unauthorised access to your device and personal data.
Check occasionally that your device is keeping itself up to date, as automatic updates can sometimes pause until there is sufficient battery power. This means your device is vulnerable to attack until the update sequence has completed.
Configure automatic backups or back up your data regularly so that you can update your device with confidence.
Automatic updates
Most devices will now have automatic updates turned on by default, however things can go wrong with automatic updates, for example:
•   Users might have disabled the automatic update option on their device.
•   Automatic updates might only occur if the device is connected to Wi-Fi, connected to power, powered on at a specific time of day, has sufficient storage, and/or isn't too far out of date.
•    Some updates might require the device to be manually restarted. If a device hasn't been restarted in a while then the update might not be installed.
Get updates from the source
When downloading a software update, only get it from the company that created it. Never use hacked, pirated or unlicensed versions of software (even if your friend gave it to you).  These often contain malware and cause more problems than they solve.
Watch for fakes!
Maybe you've seen these pop-up windows when visiting a website or opening software that urgently asks you to download something or fill out a form? These are always fake and should not be followed.
Come back next week for our fourth tip on protecting your cyber-self.
For further information please visit StaySafeOnline or National Cyber Security Centre (NCSC)
Information adopted from National Cybersecurity Alliance – Cybersecurity Awareness Month