Published date: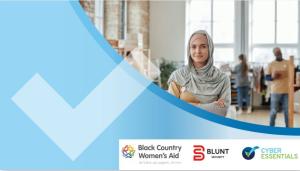 "It is all of our responsibility to keep everybody safe.
This is a new element to keeping people safe."
In 2021, Black Country Women's Aid certified to Cyber Essentials Plus for the first time. We spoke to Sara Ward who has been CEO of the charity for the last 20 years, and cyber security consultant and assessor, Chris Blunt about the collaborative, educational and transformative process that the charity has been through.
Black Country Women's Aid is a progressive charity that provides advice, support, counselling and accommodation to victims of domestic abuse, stalking, rape and sexual violence, forced marriage, so called honour based violence, modern slavery, exploitation and women who offend. With humble beginnings in Sandwell, the charity is recognised not only locally, but regionally and nationally for its innovative, dynamic models of practice.
Please visit the website of NCSC's Cyber Essentials delivery partner IASME to read the full case study and to find out more about Cyber Essentials and Cyber Essentials Plus.