CyberFirst Schools / Colleges Programme
The CyberFirst Schools/Colleges initiative from the National Cyber Security Centre (NCSC) certifies schools and Further Education Colleges committed to developing young people's cyber skills.
Learn what Schools and Colleges think about CyberFirst including St. Patricks School in Northern Ireland.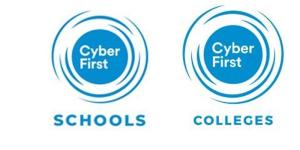 Those schools/colleges that meet all the judging criteria are awarded Gold status – for delivering excellence in cybersecurity education, Silver schools are certified for offering good standards and meeting most of the criteria and Bronze for schools aiming towards high standards.
Successful schools receive a range of benefits, including official recognition from the NCSC and opportunities to collaborate on cyber-related activities with more than 130 CyberFirst partner organisations from industries as varied as banking, telecoms and transport.
Find out more about the programme and how to apply here: https://www.ncsc.gov.uk/cyberfirst/cyberfirst-schools
Gold
Ballyclare High School
Movilla High School
South West College
St Ronan's College
Silver
Ballycastle High School
Bangor Grammar School
Belfast Metropolitan College
Campbell College, Belfast
Down High School, Downpatrick
Foyle College
Knockevin Special School, Downpatrick
Our Ladys Grammar School, Newry
South Eastern Regional College, Co. Down
Southern Regional College
St Patrick's College, Dungannon
The Royal Belfast Academical Institution (RBAI)
Thornhill
Bronze
Antrim Grammar School
Dalriada School, Ballymoney
Parkhill Integrated College, Antrim
Shimna Integrated College
Meet the CyberFirst Ambassadors
Learn about the work of NI's CyberFirst Ambassadors and how they're inspiring young people interested in cyber security: CyberFirst Schools and Colleges | Current CyberFirst Schools and Colleges
Today's students are tomorrow's experts