Published date: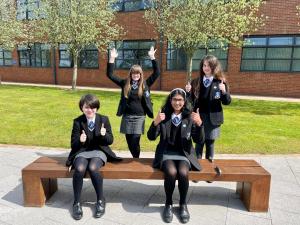 A team of Year 9 girls from Our Lady and St Patrick's College, Belfast, were among the top ten teams who took part in the UK Grand Final of the 2021 CyberFirst Girls Competition on 26 April.
The team, who had previously been recognised as NI regional champions, tackled a variety of codebreaking challenges with nine other teams from across the UK as part of the competition which is supported by NI Cyber Security Centre within the Department of Finance, Cyphra and Allstate NI.
Congratulating the team, Joe Dolan, Head of NI Cyber Security, said:
I am delighted pupils from Our Lady and St Patrick's College made it to the final. The competition was tough but the girls demonstrated an outstanding level of digital skills and fully deserve their place in the top ten.

"Congratulations must also go to all the other local teams who took part in the competition. It's great to see so many young people demonstrating such impressive cyber skills given the important role of cyber security in our everyday lives and the potential career opportunities within the sector for this generation within Northern Ireland and globally"
The CyberFirst Girls Competition is run by the National Cyber Security Centre (NCSC) and is aimed at inspiring more girls to develop cyber skills.
NCSC Chief Executive Officer Lindy Cameron said:
Congratulations to all the teams in this year's final

"This year's competition has been another success, and we're particularly grateful to the teachers who supported their students through the challenges of the past year and industry partners for inspiring girls to explore their passion for technology.

"I'm really excited by the number of girls that have shown real interest and aptitude for cyber security – and this will hopefully mean more women in the cyber workforce of the future with the skills they need to protect the UK from online threats."
In this year's final round – the first to be held online – the ten finalists applied their skills in cryptography, logic and networking to tasks based on a fictional scenario where Internet of Things (IoT) devices including smart kettles and mirrors were infected with malware.
The final marks the end of this year's contest, which aims to inspire girls aged 12 and 13 to pursue their interests in technology and consider a career in cyber security – a field where women are still underrepresented in the UK, making up just 16% of the cyber sector workforce.
About CyberFirst
The CyberFirst Girls Competition opens annually to girls in Year 8 in England and Wales, S2 in Scotland, and Year 9 in Northern Ireland, and since 2017, more than 43,000 girls have taken part.
This year, more than 6,500 girls from more than 600 schools entered as the contest went fully virtual for the first time. The 2021 finalists came from all corners of the UK, with schools from Northern Ireland, Scotland, Wales and five English regions.
The CyberFirst programme offers a range of free opportunities to help school-aged children learn more about cyber security and support their interest in the field.
This includes free courses for boys and girls, which aim to introduce pupils aged 14-17 to the cyber threat landscape and to develop their digital and problem-solving skills. Booking for this year's summer courses will open on Thursday 29 April.
Find out more information about CyberFirst opportunities here: /cyberfirst