Published date: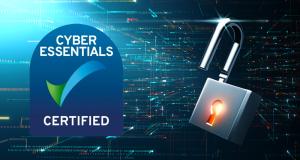 The NI Cyber Security Centre is Cyber Essentials certified!
The Cyber Essentials scheme is part of the UK Government's National Cyber Security Strategy endorsed by the National Cyber Security Centre (NCSC) and sets a minimum level cybersecurity standard for business.
"The NI Cyber Security Centre is delighted to be awarded the NCSC Cyber Essentials Certification which emphasises the importance we put on having good independent cyber security assurance.

We encourage other businesses to follow our lead and in so doing strengthen NI businesses to be cyber safe, secure and resilient thus enabling confidence in the security of our supply chains."

Joe Dolan Head of the NI Cyber Security Centre
Working with the NCSC's Cyber Essentials Partner, IASME and IT Guarded, one of the local NI Cyber Essentials certification bodies, the certification process was straight forward and relatively painless. The sections and questions asked are ones we should all be prepared to answer. By going through the process you can quickly identify areas where your business may need a bit more work to avoid being susceptible to a cyber breach.
 "It is great to see that the NI Cyber Security Centre encourages all businesses and organisations to consider Cyber Essentials certification. It is an excellent way to demonstrate to your suppliers, customers and staff that you take security seriously and have implemented good practice measures to protect against the most common internet based threats."

Dr Emma Philpott, IASME
The NI Cyber Security Centre is looking to develop resources that will help small businesses through this process.
For more information on Cyber Essentials and cybersecurity advice and guidance visit our Cyber Assurance page.