Published date: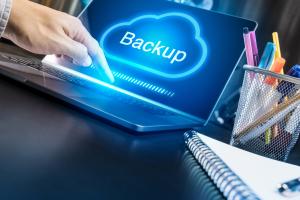 Many of us store information on our phones, tablets and laptops that would be difficult to replace if the device was lost, damaged or stolen.
The best way to protect what matters most is to back it up regularly – keeping a secure offline copy that can be accessed should the worst happen. 
How does data get lost?
There are many ways that data like files, photos etc, can get lost – including:
Hardware failure – e.g. a broken hard drive on your laptop or PC
Accidental damage – e.g. dropping your device
Accidental file deletion
Theft, loss or deliberate damage
Malware infections – e.g. virus or spyware on your device
Ransomware
How do you back up data?
Backing up means creating a copy of your information and saving it to another device or to cloud storage (online).
Before you start, it's a good idea to review the data you have on your device and prioritise the data you need to save.
Some options for backing up your data might include:
An external hard drive
A Network Attached Storage device (NAS)
An online cloud storage provider (e.g Google Drive, Microsoft OneDrive, or Apple iCloud)
Select the right backup solution for your needs and weigh up the pros and cons of each - e.g an external hard drive could be destroyed in a fire, whereas an online cloud backup would be unaffected. 
Other storage solutions, like a USB flash drive, or CD / DVD backup could also be used, but these are less favourable because they can be easily lost and have limited storage space.
When creating your backup, it's a good idea to follow the '3-2-1' rule - make at least three copies, on two different devices, and one kept offline in a different location, e.g. a relative's house. 
If you back up your data to an external hard drive, disconnect it from your computer when a backup isn't being done. This will prevent your backup data being stolen or damaged along with your computer.
If you're using an online cloud storage service, make sure you use a strong password and enable 2 Factor Authentication (2FA) to add an extra level of security to your data. Reputable cloud storage providers will encrypt your data as it is being backed up and stored so it remains secure.
Enable automatic backups or schedule regular backups so you don't have to remember to do it, and your backup copy is kept up to date. 
Practice restoring data back to a device so you know how to do this when the time comes. 
Step by step guides to backing up
The following guides for the most common operating systems should provide you with the information you will need to set up automatic backups. Other third party services are available that may more closely suit your needs.
Choose the relevant link to follow the step by step guides:
Useful Resources
The following articles provide useful advice on backing up data.