Published date: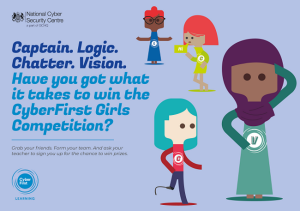 Schoolgirls across Northern Ireland are preparing to put their tech skills to the test this week in a bid to be crowned cybersecurity champions by GCHQ's National Cyber Security Centre (NCSC). 
Finalists from 12 schools will compete in Belfast on Saturday at the final of the annual CyberFirst Girls Competition. The final will see them gather in person as they work in teams to crack cyber-related puzzles on everything from artificial intelligence to cryptography and logic.
The girls, aged 12 and 13, have already seen off tough competition in an online round last autumn. More than 8,700 girls entered this year's competition – a 24% increase on the previous year.
Northern Ireland's final will be one of 13 taking place simultaneously across the UK, with the winner from each country or region expected to be announced in the afternoon. By holding finals throughout the UK, the NCSC aims to encourage more young people from more regions to participate. 
Now in its seventh year, the CyberFirst Girls Competition aims to inspire girls to consider pursuing careers in cyber security and change the future of the industry for the better. Currently, female representation in the sector is unacceptably low, with women accounting for just 22% of the UK's cyber workforce.
Chris Ensor, NCSC Deputy Director for Cyber Growth, said:
"This week girls across Northern Ireland are preparing to compete in the final of the CyberFirst Girls Competition. To have reached this stage is an amazing achievement and we wish all of them the best of luck.
"The UK's cyber industry is growing rapidly, but it needs better female representation – that's why we're committed to uncovering cyber talent and improving opportunities.
"I hope that for many of the girls, this is just the start of their journey into cyber security."
Hugh Tohill, Deputy Director Cyber Security Northern Ireland Civil Service, said:
"Well done to all the schools and girls who entered the CyberFirst Girls Competition and congratulations to those who were successful in reaching the finals.
"We are delighted to see the increase in popularity of this competition within Northern Ireland and look forward to the future where we will see more girls progress their careers in cyber security and technology".
Charlene Hunter MBE, CEO and Founder of Coding Black Females, said:
"The CyberFirst Girls Competition has already impacted so many girls, and I'm excited to see the 22% increase to a much higher number with opportunities like this.

"Competitions like this are vitally important to ensure that girls and young women are exposed to technology from an early age.

"I've had the privilege of having parents in tech and involvement in the industry has been a large part of my upbringing, this enabled me to see fewer barriers when I started my career as a software engineer and so much of that has had an impact on the creation and development of Coding Black Females."
The CyberFirst Girls Competition is the NCSC's flagship cyber security contest for schools, which opens annually to girls in Year 8 in England and Wales, S2 in Scotland, and Year 9 in Northern Ireland. Since it launched in 2017, around 65,000 girls have taken part.
The finalists are the highest scoring teams from the first round that took place in November, and finals are being held for each of Scotland, Wales, Northern Ireland and English regions. All the finals are taking place this week on Saturday 4 February.
The schools taking part in the Northern Ireland final were the highest scoring in the online qualifying round in December. The finalists are:
Ballymena Academy
Glenlola Collegiate School
St Patrick's Academy Dungannon
The Royal School, Armagh
Dalriada School
St Patrick's and St Brigid's College
Strathearn School
Our Lady and St Patrick's College, Knock
St Dominic's Grammar School for Girls
Thornhill College
Our Lady's Grammar School
Assumption Grammar School
The winners will be announced via the NCSC's social media from around 16:00 for each final. They will receive laptops as part of their prize, along with an invitation to a celebration event later in the year.
The CyberFirst programme offers a range of free opportunities aimed at offering young people the skills, opportunities and exposure they need to thrive in cyber security.
More information about CyberFirst opportunities can be found on the NCSC website.