Published date: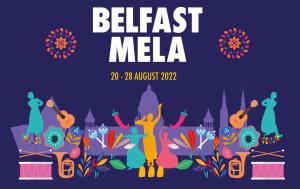 The NI Cyber Security Centre are excited to be at the Belfast Mela in Botanic Gardens on 28 August. Come chat to us about all things cyber and we look forward to catching up with our global family!
Belfast Mela Day is back again this Sunday 28th August from 12pm to 6pm at Botanic Gardens.  It will round off a week long programme of events (external link opens in a new window/tab) around the city between 20th to 28th August.  I hope you with friends and family will join in and experience the wonder of Belfast's diversity with the spectacular week long programme of world music, dance, food, culture, colour, creativity and art across the city.
The Mela remains an important opportunity for the Northern Ireland Cyber Security Centre to outreach and engage with our minority ethnic communities and other members of the public.  We want to share with our diverse communities about what we do and who we are.  We want to reach out to people, helping with signposting, advice and support, while always ready to listen to feedback. 
Join us in Botanic Gardens and/or Mela Bazaar(external link opens in a new window/tab), where we will be showcasing our services, demonstrating how the Northern Ireland Cyber Security Centre continues to play an active part in our shared society.