Published date: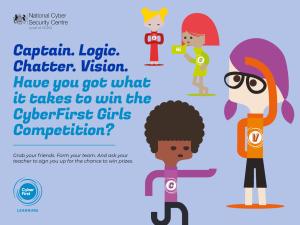 A cyber-savvy team of girls from Our Lady and St Patrick's College, Belfast, have reached the final of the National Cyber Security Centre CyberFirst Girls Competition.
The competition, which is supported locally by the NI Cyber Security Centre within the Department of Finance, gives local school girls aged 12-13 the opportunity to show their code-breaking cyber skills to be in with a chance of being crowned overall winners.
Congratulating the pupils, Finance Minister Conor Murphy said:
I am delighted pupils from Our Lady and St Patrick's College have made it to the final. They have demonstrated an outstanding level of digital skills to get this far and I wish them all the best in the final stage of the competition.

Congratulations must also go to all the other teams who took part. It's great to see so many young people demonstrating such impressive cyber skills given the important role of cyber security in our everyday lives and the potential career opportunities within the sector for this generation."
Education Minister Peter Weir said:
This is a fantastic achievement for the girls of Our Lady and St Patrick's College and I wish them luck in the grand final in April.

Congratulations to all the schools and colleges who have taken part in this competition helping girls explore their passion for technology and computing by introducing them to the world of Cyber Security. Equipped with the skills to navigate the online world, many will go on to study for computing related qualifications and ultimately seek a career in the Cyber security profession.
Joe Dolan, Head of NI Cyber Security Centre, added:
The NI Cyber Security Centre is delighted to support this competition locally. We continue to be encouraged with the number of girls participating each year and have been so impressed by the standards and skills on display. We wish the pupils from Our Lady and St Patrick's College well in the final.
Now in its fifth year, the CyberFirst Girls Competition aims to inspire girls to pursue their interests in technology and consider a career in cyber security – a field where women are still under-represented within the workforce.
More than 120 teams took part in semi-final heats held virtually for pupils in Northern Ireland, Scotland, Wales and England with 10 teams progressing to the Grand Final in April.
The 40 finalists will face new tasks testing their understanding of cyber security and putting the skills they have developed during the competition into practice. Each team will also receive a drop crate, containing tech equipment and physical challenges, to help them complete the puzzles.