Published date: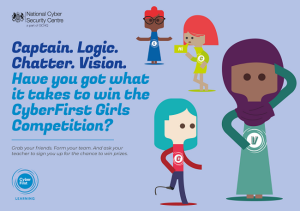 Registration is now open for the 2023 CyberFirst Girls Competition
The CyberFirst Girls Competition aims to support girls interested in a career in cyber security. Whatever your ability, from beginner to expert, the CyberFirst Girls Competition is an opportunity to learn something new about cyber security.
It's open to all Year 9 female students in Northern Ireland.
The content for each category of the competition is consistent with subjects within the Computer Science syllabus from both the National Curriculum and Scotland's Curriculum for Excellence. However, the competition will contain some advanced cyber topics that are not covered in traditional education but will seek to stretch the lateral thinking and additional cyber knowledge of the teams.
Awards include -
Top scoring state newcomer
Best supporting Independent school
Most team entries
Top scoring team
Top scoring CyberFirst school
Top scoring returning school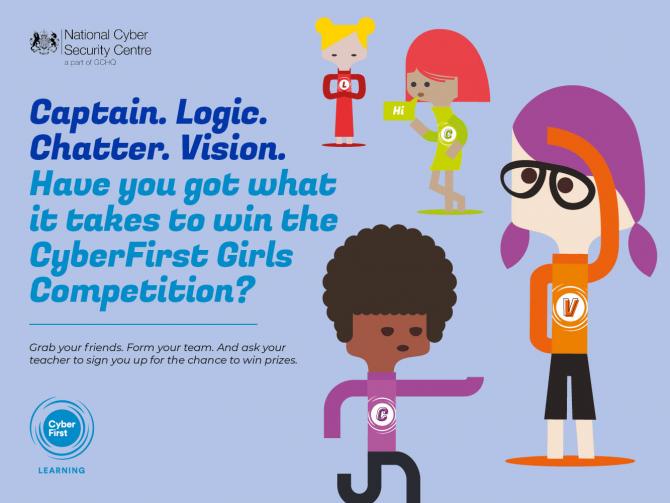 The final of the CyberFirst Girls Competition will take place at the end of April
Key dates for 2022-23
Registration opens: 26 September 2022
Online qualifier: midday 21 - midday 30 November 2022
Regional and Independant finals: 4 February 2023
Awards day : tbc March 2023
What you need to know
Teams are made up of up to four female students in Year 9.
Schools can enter as many teams as they like so long as they meet the eligibility criteria.
Teams need to be supported by a responsible adult appointed by the school who is aged over 18 years and who can act as the team guardian.
Team guardians do not need to have any cyber knowledge or be an IT or computer science teacher. Their role is to register the teams and facilitate access to the competition. See our Teacher Information Pack(external link opens in a new window / tab) for useful information, videos and links to help you get started.
Example challenges such as those in the online qualifier round
How to enter:
Registration open from 26 September 2022
Online Quaifier opens midday 30 November 2022
Teachers
This Teachers Information Pack(external link opens in a new window / tab) guides you through the registration process, the student's accounts and how the competition platform works. It also contains useful tools, it ideas to spread the word and taster challenges.
Go to NCSC - CyberFirst Girls Competition(external link opens in a new window / tab) to find out more on how to be part of this rewarding competition.