Published date: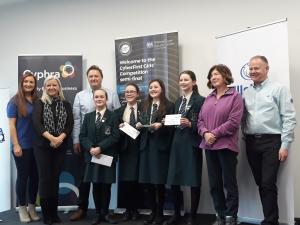 The NI Cyber Security Centre, Allstate and Cyphra brought together twenty-eight girls from eight schools across Northern Ireland to compete in the 2020 regional final of this prestigious NCSC UK wide CyberFirst Girls competition.
The winning prize was presented by Cyphra to the 2020 Northern Ireland CyberFirst Girls champions Strathearn School, Belfast. They will now go forward to represent Northern Ireland at the UK finals on the 15th and 16th March in Wales.
It was a tightly fought competition right up to the last minute. Royal School Armagh lead for most of the day, closely followed by St Dominics High School Belfast. In the very last minute, Strathearn School Belfast completed their final challenge which saw them being catapulted to first place in this first regional final.  St Dominics High School ended the day in second with Royal School Armagh taking third place.
The participating finalist schools included:
Royal School, Armagh
Strathearn School, Belfast
St Dominics High School, Belfast
Rathmore Grammar School, Belfast
Ballymena Academy, Ballymena
Limavady Grammar School, Limavady
Down High School, Downpatrick
St Mary's Grammar School, Magherafelt
The CyberFirst Girls competition provides a fun but challenging environment to inspire the next generation of young women to consider a career in cybersecurity. The competition was open to schools across the UK and was aimed at Year 9 girls in Northern Ireland. It gives girls the opportunity to find out more about cybersecurity with a view to potentially influencing the subjects they take at GCSE (or equivalent).