Throughout the year we will be running Cyber Security related events throughout Northern Ireland.
Current events - Will be published here. You can also stay up to date by following us on twitter @nicybersc
Beyond Borders - All Island Community Safety Conference 2022 - 17th November
Beyond Borders - All Island Community Safety Conference 2022 (morroweventshub.com)
The first All Island Community Safety Conference.
The theme of the conference is Collaboration & Community Engagement – a space where ideas and good practice around approaches to community safety, collaborative action and stakeholder engagement can be shared. Innovative responses to traditional challenges will be explored to make communities across Ireland safer places to live, work and visit.
This is a partnership initiative between Newry Mourne & Down Policing & Community Safety Partnership, Drogheda Implementation Board and Longford, Waterford & Dublin (North East Inner City) Community Safety Partnerships.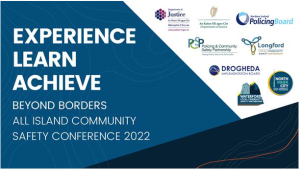 Who Should Attend?
The conference will be of interest to all organisations and agencies working in the field of community safety and is open to delegates from the Public, Private and Third Sectors. Networking opportunities will be provided during the event.
Safer Internet Day 7th February 2023
Safer Internet Day 2023 will take place on the 7th of February 2023, with the theme 'Want to talk about it? Making space for conversations about life online'.
Check in nearer the time for more information on how to put children and young people's voices at the heart of the day and encourage them to shape the online safety support that they receive.
Past events - Archive of past events.